The Spirit Of A Greyhound
I was standing on a hillside in a field of blowing wheat,
and the spirit of a Greyhound was lying at my feet.
He looked at me with kind dark eyes, ancient wisdom shining through
in the essence of his being, I saw the love there too.
His mind did lock upon my heart as I stood there on that day,
and he told me of this story about a place so far away.
As I stood upon that hillside in a field of blowing wheat,
in a twinkling of a second his spirit left my feet.
His tale did put my heart at ease, all my fears did fade away
about what lay ahead of me on another distant day.
"I live among God's creatures now in the heavens of your mind,
so do not grieve for me, my friend as I am with my kind.
My collar is a rainbow's hue, my leash a shooting star.
my boundaries are the Milky Way where I sparkle from afar.
There are no pens or kennels here for I am not confined,
but I'm free to roam God's heavens among the Greyhound kind.
I nap the day on a snowy cloud gentle breezes rocking me,
and dream the dreams of earthlings, and how it used to be.
(Author Unknown)


---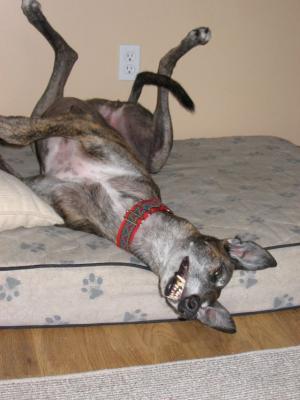 Bounty Boon (1/23/99-6/25/07)

Bounty Boon, where should I begin. He was brought to my house as a foster who was recently healed from a broken hock and listed at being 7 years old and was a BIG boy. I couldn't believe no one was interested in him because he was such a beautiful boy and after he was here for about 4 weeks so I had to keep him. He was the sweetest, loving boy I had ever known. He was confident but not arrogant. He was so active I couldn't believe he was seven. And he wasn't, he was four. He had some very impressive times in his short career at Bluff's Run. He never ceased to make me laugh and feel loved. He was a tremendous confidence booster to our friend Lynn's shy Bailey. It was the one dog he loved to run with.
He loved everyone...others dogs, cats, especially people. He was actually a retriever in a greyhound body. His greatest love was his frisbee. He could get way off the ground and grab it in midair. It was magnificient to watch and my regret is that I never got a good action shot of him. He loved his little sisters and even didn't mind when Pixie joined us and insisted on snuggling with him. She was so loving with him the last few days.
I can't believe you are gone so quickly my sweet, sweet boy. I will never forget your beautiful face and beautiful heart. The girls and I miss you terribly already. You were the best.
Donna Ponder


---

Kizzie
We had just celebrated our 12th "gotcha day" last Sunday We knew her time was limited but it still seems to have come to fast. Kizz was a special one. In her younger years she was one of the best meet & greet dogs around. If it had legs, she wanted to say Hi. She loved everyone & everything. She was just such a sweet hound. She put up going to obedience classes with me and achieved her AKC Canine Good Citizenship title shortly after joining us. At the track she was called a "butterfly". She was retired after only a couple months because she would rather "flit" around or chase butterflies than pay attention to the task at hand (chasing the lure!). While not the best around or a consistent competitor, She did enjoy competing in lure coursing with me. She achieved her AKC Senior Courser title and the American Sighthound Field Associations Field Champion title At home she was just a great companion. She never did anything wrong. She was Chris' little girl. His little KizzKizz. Always a perfect lady. Our home and hearts feel very empty right now but we know she's in good hands at the bridge. Until we meet again little Kizz-poo, Godspeed sweet girl
Barb & Chris


---

Flying Goliath (April 1 1996 to May 20, 2006)
I never expected to lose Goliath so soon - and especially to cancer - and thought I had many more years left. I think we all do. Goliath came to me from Iowa on a cold November day. He was not a happy boy for many months. I think he truly loved racing and his trainer. Most of his racing career was in southern Florida. Goliath followed me around in the house and liked to keep me in sight. He had terrible thunderphobia and was even worse with fireworks. He was a beautiful big brindle boy whom I loved dearly.

Run free my sweet boy.....


---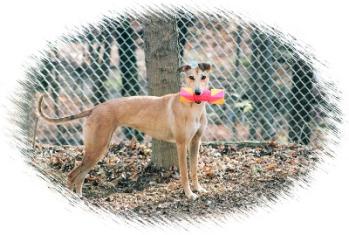 ---

Sweet Birdie (3/24/03 to 1/22/08)

Run Fast and Free Sweet Birdie with your own kind across those beautiful grassy meadows....there are many that loved you....we wish it could have been for much longer....


---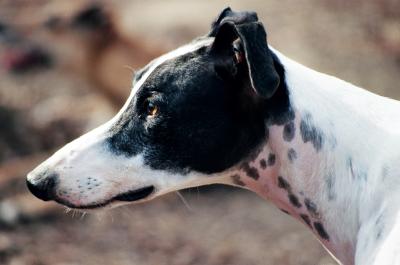 Kiley
---

Gina Swanson 4/26/98 - 7/6/09
---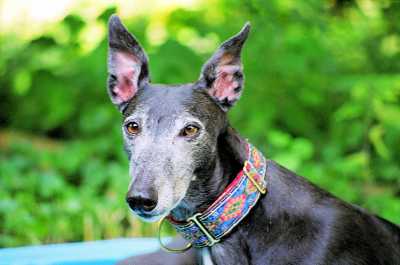 ---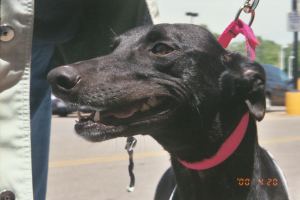 a "Special Angel"
---
Sassy

passed to the Bridge on October 26, 2009

Please read here
the Memorial Tribute to Sassy
---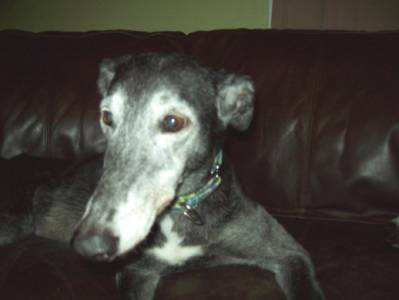 Daisy (12/4/1997 - 12/21/2009)

I hadn't the slightest idea how much I would learn about love in our short four years and three months together. Meek, quiet, unassuming, tentative...yet always ready and able to love, Daisy was the embodiment of what dogs give to humans. No matter how hard her life had been before--no matter how much about her I didn't know--all that mattered to her was enjoying her life and making others happy. Forcing her nose under my hand so I would pet her...mouthing a few excited whispers before she could get out a squeaky, high yelp, her quiet nature making her bark a rare and silly treat...the list of special things about Daisy goes on and on. She was happiest with her favorite squeaky toy, Lil Buddy, running with other dogs at the dog park, and being nestled in the corner of the couch at home clutching a toy. Her expressive eyes showed the depth of her soul, tinged with an underlying sense of worry...she longed for companionship and a manner as gentle as hers, and to know that she wouldn't lose that. Among Daisy's last missions of generosity was her volunteer time as a therapy dog at Good Samaritan Hospital, where she visited patients from August through October 2009, shortly before she was diagnosed with osteosarcoma. To her last day she walked on her own, and loved through the pain. She truly made me a better person and taught me the meaning of compassion. When I got her, her medical records indicated she had an enlarged heart. Even in her last weeks, the OSU vets took x-rays of it just to examine its unique size. But by that time it was news to no one that she had a big heart. Those who knew her were privileged to find that out for themselves. Worry no more, Daisy...you are fast and free again, this time forever...and always loved. -- Tim


---

At the Bridge October 5, 2010

RUDY SQUIRES, aka Rufus, aka Riley, once known as LJ FLawless, passed away shortly after 1 a.m. on October 5, 2010. Rudy's special made angel wings were ready way before we Ken and I) thought they would be. We believed we had to bring him to the delivery station, also called Vet office, but- typically Rudy- he did it his way and passed at home, right next to Ken. If there ever was a song fitting a greyhound, it was the song: "MY Way" for Rudy. Rudy lived by his own rules and the pain we feel is so big, because he left his paw prints in everyone's heart who had the privilege to know him and he died his own way! He died at home, the home he came back to, the only home on earth he ever knew who welcomed him twice with open arms - when others failed and closed their doors on him, Ken opened his door wide, the door to his heart and the door to his house, he welcomed Rudy with open arms because Ken, who has taken in countless foster dogs and knows greyhounds in and out, knew that Rudy was special and Rudy was right up there with Tums and Catalina, other greyhounds who left paw prints deeply carved in his heart. Rudy decided it was time to go to the forever home we could find for him, the true home he will never be kicked out because circumstances changed, people changed, or love, which is to be forever, love which is to endure all kinds of hurtles and challenges, dies in somebody's heart. May Rudy rest in peace and with a body that does not fail him and may he think of us once in a while and may he let us know in his own way, that he has arrived at the other side, safe and sound, knowing that, no matter what life brought him, at the end, he was loved and cherished and understood and accepted. Another angel will now watch over us greyhound lovers!

Brigitte


---

Pazza Sweet Corn (5-14-98 to 7-20-11)



Your presence we miss
Your memories we treasure
Loving you always
Forgetting you never

Sweet Corn was adopted in March of 2003 by Alissa and Drew Bogner. He shared his home with Robyn, another greyhound, and was much loved.


---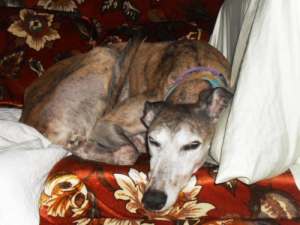 Miss Malibu is now a shining and sparkling star. After an illness, Malibu passed away peacefully and is now running free in those beautiful green pastures. She is our little angel and will be very much missed by all who knew her. Malibu was a gentle and kind spirit. I am so very grateful that I was able to take care of her, pamper her and give her all my love for the last six months. Run free sweet girl. Suzanne




...for Joey's Greyhound Friends. Thank You!
---
---
The Loss of a Heart-Dog

I stood by your bed last night, I came to have a peep. I could see that you were crying, you found it hard to sleep.

I whined to you so softly as you brushed away a tear, "It's me, I haven't left you, I'm well, I'm fine, I'm here."

I was close to you at breakfast, I watched you pour the tea. You were thinking of the many times your hands reached down to me.

I was with you at the shops today, your arms were getting sore. I longed to take your parcels, I wished I could do more.

I was with you at my grave today. You tend it with such care. I want to reassure you that I'm not lying there.

I walked with you towards the house, as you fumbled for your key. I gently put my paw on you, I smiled and said, "It's me."

You looked so very tired, and sank into a chair. I tried so hard to let you know, that I was standing there.

It's possible for me to be so near you everyday. To say to you with certainty, "I never went away."

You sat there very quietly, then smiled, I think you knew...In the stillness of that evening, I was very close to you.

The day is over now ... I smile and watch you yawning, And say, "Goodnight, God bless, I'll see you in the morning."

And when the time is right for you to cross the brief divide, I'll rush across to greet you and we'll stand, side by side.

I have so many things to show you, there is so much for you to see.

Be patient, live your journey out ... then come Home to be with me.

Author Unknown
Quoted from rec.pet.dogs.health