Freedom Flight #4 – September 17, 2009
Sarasota, FL to Cincinnati, OH
Passenger Flying: Edith, Danny, and a Senior Collie named Molly


Danny and Edith at the Airport in Florida…
They look very ready for their first airplane flight…
Danny and Brigitte
Finally!
We are in the air!!!
Wow – look at all the clouds!
This is sooooo exciting and fun!!!!
Now – down to the more serious business – a long nap!
These pillows are oh so soft….
(Molly, the collie watching over Edie and Danny.)
Finally!
Danny – catching some serious zzzzz's………
Just wake me up when we land…until then, I will just snuggle up here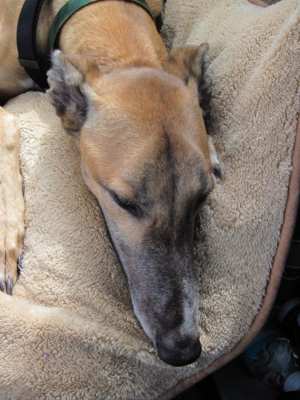 And am I this far up for a reason?!?!?
I hope we can get down from here without too much trouble….
I better find out where we are going…
I do hope they have snacks soon.
This flying makes me really hungry…
And, you know they totally forgot to feed me this morning…
but the attendants are super nice and have been giving us a lot of pets… (Edith)
Edith making sure her pilot is okay…
Maybe they will let me try my paw at this…
I am a very smart girl and it doesn't look all that hard…
On the ground at last!
Whippee!
I am so excited to see everything.
Let me OUT please!
I want to be first out…
please please ….
Just arrived at Lunken Airport, Cincinnati!
Yeah!
Feels kind of cool here.
Nice.
Where's dinner?
Note:
Molly, the senior Collie is with Collie Rescue in Dayton, Ohio. Edith was adopted on October 10, and Danny is in a foster home with several other greyhounds and hopes to find a forever home very soon!

A very special thanks to Pilots Janine and Mike of Sarasota, Florida for helping fly these very lucky dogs to true freedom and a second chance at a new life.